Waterbroom : Design
Design uses the Venturi effect
Heavy-duty aluminum construction
Food grade approved wheels
Works with water pressure up to 150 PSI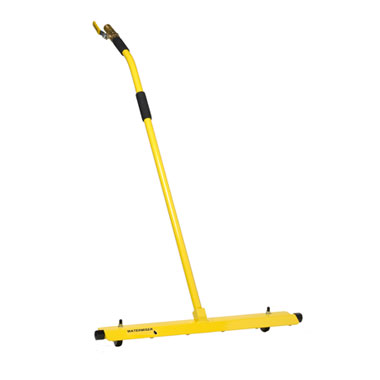 Waterbroom : At Work
Firehouses, Schools, Hospitals
Restaurants, Hotels, Shopping Malls
Sports Venues, Construction Sites
Industrial Facilities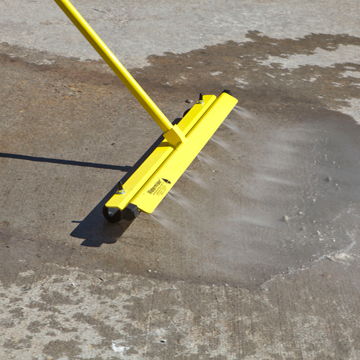 Waterbroom : Delivers
Significantly reduces water use
Virtually eliminates urban runoff
Increases productivity
Easy to use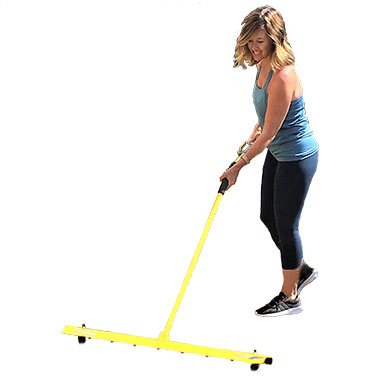 ---
Imagine cleaning all outdoor surfaces while saving money, water and time.
Well, now it's possible...with the Hydro-Mizer Waterbroom!
a Water Saving Heavy-Duty Industrial Cleaning Tool...
---
FEATURES
Design uses the Venturi effect (a combination of air and water) allowing cleaned area to dry in minutes
Effectively works with water pressure up to 150 PSI
Heavy-duty aluminum construction
Food grade approved wheels for restaurants, food plants, dairies, etc.
U.S. Patent 7,063,281
BENEFITS
Significantly reduces water use when cleaning compared to a pressure washer or hose with sprayer
Can use hot water to cut thru grease and grime
Reduces labor by increasing productivity and efficiencies
Virtually eliminates urban runoff
Will not harm pavers, epoxy floor finishes, court coatings, asphalt or concrete
The Hydro-Mizer Waterbroom website is now live at hydromizer.net. The original patented Waterbroom is available here.
Now Open For Business
Saving you time & money
Introducing: The Hydro-Mizer Waterbroom!!!
The patented Waterbroom cleans in less time while using far less water than a commercial hose with sprayer or power washer.
Built to industrial standards with aircraft strength aluminum, the Waterbroom is suitable for a large variety of work environments, including hotel pool & tennis areas, schools, hospitals, restaurants, shopping malls, construction sites, industrial facilities, multi-family residential, and more.
You can now order your Hydro-Mizer Waterbrooms from our online store.
The Waterbroom is available in two sizes:
42" Manifold length - Model # WB-42
32" Manifold length - Model # WB-32

1 Year Limited Warranty